Updated CFP Aiscli Conference Acting Out and Thinking Ahead 17-18 February 2022 new deadline 6 January 2022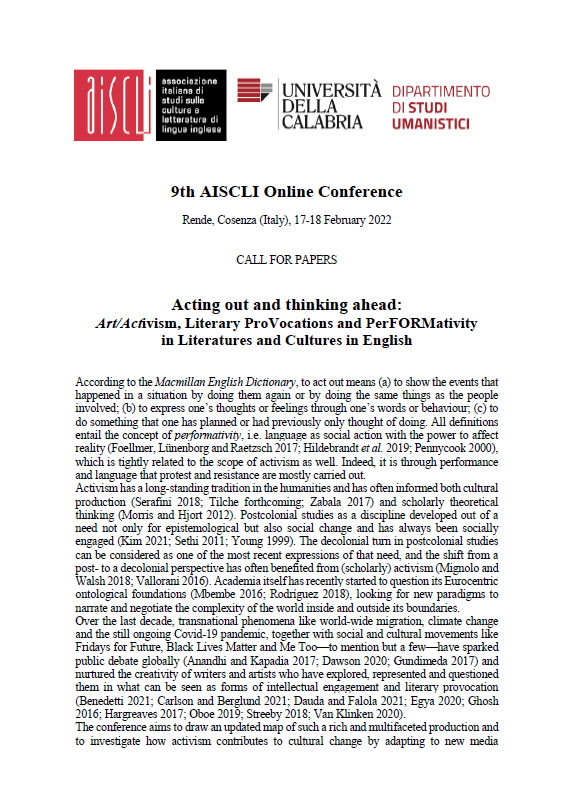 The conference aims to draw an updated map of such a rich and multifaceted production and to investigate how activism contributes to cultural change by adapting to new media (Alperstein 2021; Gerbaudo 2012; Treré 2020) and reshaping new literary and artistic genres—suffice it to mention the increasing popularity of hashtags in naming and legitimising social movements online or the emergence of digital literature. In this scenario, also activist translation plays a fundamental role in connecting and empowering transnational movements, managing conflict, contesting existing forms of discrimination and injustice, and ultimately producing social transformation (Baker 2006; Gould and Tahmasebian 2020; Tymoczko 2010; Vallorani 2021).
Going back to the definitions above, the conference wishes to explore and analyse works by writers and artists who "act out" and "think ahead", not only by questioning the past and challenging the present, but also by envisaging and anticipating a better and more just future, creating a performative counter-discourse that relies first and foremost on the power of language.
Activist literature and literary provocations
Textual and generic hybridisations
Spoken word poetry and performativity
Digital/Electronic literature
Scholarly activism
Decolonising academia
Artivism, performance and resistance
The cancel culture debate
Postcolonial translation and activism
Publishing policies as activism
Digital and cyber-activism
Globalisation and transnational activism;
Online activist and/or author communities;
Transnational activism and migration.
Confirmed keynote speakers:
Bronwyn Carlson, Macquarie University, Sydney, Australia
Annalisa Oboe, University of Padua
Nicoletta Vallorani, University of Milan
Guest artists:
Danielle SeeWalker (Lakota artist and writer) & Carlotta Cardana (photographer)
Proposal submission:
Please send your proposal to info@aiscli.it by January 6, 2022. Proposals must include title, 250-word abstract, institutional affiliation and contact information. Acceptance will be notified by January 16, 2022. Due to the ongoing pandemic, the conference will be held online. There are no conference fees. In order to present a paper, speakers must be full members of AISCLI. Information about membership fees and procedures are available online at http://www.aiscli.it/iscrizioni/.
Conference convenors:
Lorena Carbonara, Mirko Casagranda, University of Calabria
Scientific committee:
Esterino Adami, Lorena Carbonara, Mirko Casagranda, Carmelina Concilio, Marina De Chiara, Eleonora Federici, Serena Guarracino, Marilena Parlati.
References:
Alperstein, Neil, 2021, Performing Media Activism in the Digital Age, London, Palgrave Macmillan.
Anandhi S. and Kapadia, Karin, 2017, Dalit Women. Vanguard of an Alternative Politics in India, London, Routledge.
Baker, Mona, 2006, Translation and Conflict. A Narrative Account, London, Routledge.
Benedetti, Carla, 2021, La letteratura ci salverà dall'estinzione, Torino, Einaudi.
Carlson, Bronwyn and Berglund, Jeff (eds.), 2021, Indigenous People Rise Up. The Global Ascendency of Social Media Activism, New Brunswick (NJ), Rutgers University Press.
Dauda, Bola and Falola, Toyin, 2021, Wole Soyinka. Literature, Activism, and African Transformation, London, Bloomsbury Academic.
Dawson, Ashley, 2020, People's Power. Reclaiming the Energy Commons, New York, OR Books.
Egya, Sule E., 2020, Nature, Environment, and Activism in Nigerian Literature, London, Routledge.
Foellmer, Susanne, Lünenborg, Margreth and Raetzsch, Christoph (eds.), 2017, Media Practices, Social Movements, and Performativity. Transdisciplinary Approaches, London, Routledge.
Gerbaudo, Paolo, 2012, Tweets and the Streets. Social Media and Contemporary Activism, London, Pluto Press.
Ghosh, Amitav, 2016, The Great Derangement. Climate Change and the Unthinkable, Chicago (IL), The University of Chicago Press.
Gould, Rebecca Ruth and Tahmasebian, Kayvan (eds.), 2020, The Routledge Handbook of Translation and Activism, London, Routledge.
Hargreaves, Allison, 2017, Violence against Indigenous Women. Literature, Activism, Resistance, Waterloo (ON), Wilfrid Laurier University Press.
Hildebrandt, Paula et al. (eds.), 2019, Performing Citizenship. Bodies, Agencies, Limitations, London, Palgrave Macmillan.
Kim, David D. (ed.), 2021, Reframing Postcolonial Studies. Concepts, Methodologies, Scholarly Activism, Palgrave Macmillan.
Mbembe, Achille, 2016, "Decolonizing the university: New directions", Arts and Humanities in Higher Education, 15(1), pp. 29-45.
Mignolo, Walter D. and Walsh, Catherine E., 2018, On Decoloniality. Concepts, Analytics, Praxis, Durham, Duke University Press.
Morris, Meaghan and Hjort, Mette (eds.), 2012, Creativity and Academic Activism. Instituting Cultural Studies, Durham, Duke University Press.
Oboe, Annalisa, 2019, "Sculptural eyewear and Cyberfemmes: afrofuturist art", From the European South, 4, pp. 31-44.
Pennycook, Alastair, 2000, "English, Politics, Ideology: From Colonial Celebration to Postcolonial Performativity", in Ricento, Thomas (ed.), Ideology, Politics and Language Policies. Focus on English, Amsterdam, John Benjamins Publishing Company, pp. 107-119.
Rodríguez, Clelia O., 2018, Decolonizing Academia. Poverty, Oppression and Pain, Halifax (NS), Fernwood Publishing.
Serafini, Paula, 2018, Performance Action. The Politics of Art Activism, London and New York, Routledge.
Sethi, Rumina, 2011, The Politics of Postcolonialism. Empire, Nation and Resistance, London, Pluto Press.
Streeby, Shelley, 2018, Imagining the Future of Climate Change. World-Making through Science Fiction and Activism, Berkeley (CA), University of California Press.
Tilche, Alice, forthcoming, Adivasi Art and Activism. Curation in a Nationalist Age, Washington, University of Washington Press.
Tymoczko, Maria, 2010, "Translation, Resistance, Activism: An Overview", in Maria Tymoczko (ed.), Translation, Resistance, Activism, Amherst, University of Massachusetts Press, pp. 1-22.
Treré, Emiliano, 2020, Hybrid Media Activism. Ecologies, Imaginaries, Algorithms, London, Routledge.
Vallorani, Nicoletta, 2016, "Sidelong thinking. Disobedient geographies", Altre Modernità, 16, pp. 120-133.
Vallorani, Nicoletta, 2021, "Faithful to the Wor(l)d. Visual Texts, Responsibility and the Issue of Translation", Pólemos, 15(2), pp. 207-220.
Van Klinken, Adriaan, 2020, Kenyan, Christian, Queer. Religion, LGBT Activism, and Arts of Resistance in Africa, University Park (PA), Penn State University Press.
Young, Robert J.C., 1999, "Academic activism and knowledge formation in postcolonial critique", Postcolonial Studies, 2(1), pp. 29-34.
Zabala, Santiago, 2017, Why only Art can Save Us, New York, Columbia University Press.